The end of 2019 is upon us and that means it is time for us to break down the top MMO news stories of 2019. To say that it was a wild year would be a bit of an understatement. There were a number of huge launches this year, rumors abound, and trouble for some of the industry's biggest developers. These are the top MMO news stories of 2019.
Guild Wars 3 May Be in Development
In October ArenaNet President Mike O'Brien, known by the community as MO left the company after 19 years. At the time an unnamed source told Kotaku that he hand been working on an unannounced Guild Wars project that could potentially be Guild Wars 3. The source also said that Guild Wars 3 hadn't been officially greenlit but that the work O'Brien and his team had been doing could have developed into a sequel. Since then there hasn't been any update on the story but a number of other high profile departures from ArenaNet have taken place.
Remnant: From the Ashes Launch
The launch of Remnant: From the Ashes took MMOGames readers by storm this year as the announcement of it's launch was one of our most-read news posts all year. This Souls-like shooter has overwhelmingly positive reviews on Steam and if you happen to be reading this while the Steam Winter Sale is on then you can get it 30% off. Its dark fantasy atmosphere is a rare treat and the fact that you can play it as a single-player game makes it all the better.
ArcheAge Buy to Play Option
Gamigo announced in August that ArcheAge would be getting a buy to play option called ArcheAge Unchained. This announcement seemed to come out of nowhere and captured the attention of untold thousands. When it launched in October the servers were plagued with thousands of people stuck in queues for hours on end, a testament to how popular the buy to play option was. The queues continued for several weeks after the launch though thankfully they did settle down eventually.
WoW Classic Launch
The launch of WoW Classic was somewhat overshadowed by some other events that were going on for Blizzard at the time, you'll see more about them later. However, Vanilla WoW fans finally got what they had been asking for, a fresh start in World of Warcraft from the beginning, or at least as close to it as they will ever get. The launch also seemed to bring out some of the worst in people though, just before launch there was a debate about which servers to go on to avoid Twitch streamers because they weren't part of the original experience in the game. A few months on now conversations about WoW Classic have died down fairly quickly. That's not to say it wasn't successful, but it was a bit like when Pokemon Go launched, everyone talked about it for a couple of weeks and then the vast majority of "tourist" players left and only the dedicated core remained.
Phantasy Star Online 2 in the West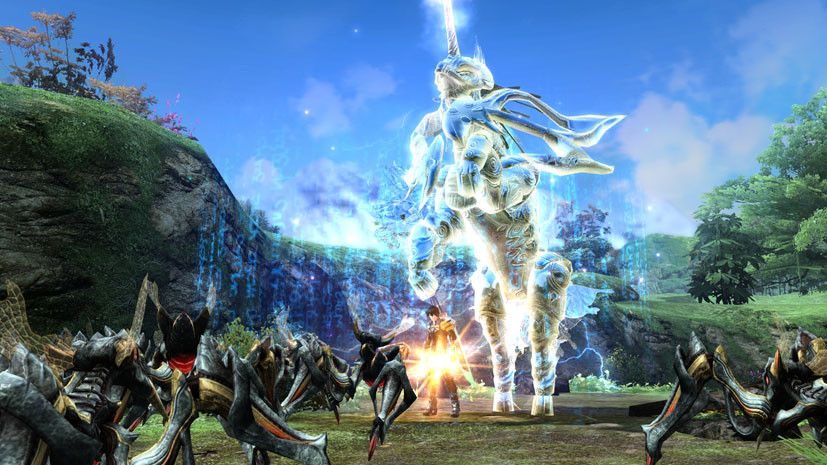 Phantasy Star Online 2 launched in Japan in 2012 and ever since then there has been a very dedicated bunch of gamers who have lamented that PSO2 never made it to the West. Many had given up hope. Which is why it came as such a huge surprise when it was announced that the game would finally be launching in the West, or at least in North America. The game won't be launching until Q2 2020 so expect to see a whole lot more about it in the coming months.
Brad McQuaid's Death
This year the MMO industry lost one of its icons when developer Brad McQuaid suddenly died in November. McQuaid is best known for his work on fantasy MMORPGs starting with the original Everquest. He went on to create Vanguard: Saga of Heroes and was working on the development of Pantheon: Rise of the Fallen at the time of his passing. His death was unexpected and surprised the entire community. Developers of Pantheon: Rise of the Fallen have said they would continue the visionary work McQuaid had started.
FFXIV Shadowbringers Launch
Though there was no one single news post we could point to for the launch of FFXIV Shadowbringers and its massive popularity we would be remiss in leaving it out of this list. Shadowbringers has been called the best FFXIV expansion to date and in fact, many even hailed it as the best MMORPG expansion of all time. That amount of praise was almost enough to get our most reclusive writers to try FFXIV, almost. Still, it was a fantastic expansion and easily could have been the biggest news of the year had it happened in any year other than 2019.
Riot Games Discrimination and Walkout
This year had a rough start for Riot Games as it was knee-deep in sexism, sexual harassment, and discrimination allegations. In response, Riot suspended their COO and hired their first Chief Diversity Officer. Five lawsuits came about as a result of the allegations and two of them were forced into private arbitration. This while tech giants Google and Facebook announced they were ending forced arbitration for harassment cases. Riot continued to make a number of unpopular choices for their employees which resulted in an employee walkout, the first time that had ever happened in the video games industry. It all finally came to an end at the beginning of December when it was announced that Riot Games would pay at least $10 million to about a thousand female employees who are eligible for a share.
Blizzard Boycott
As previously mentioned, there was one Blizzard story that dominated them all this year and that was the boycott and backlash the company faced after suspending a pro-gamer after he showed his support for the Hong Kong protestors in a live event. The two casters who were interviewing him were also suspended. This resulted in a very public backlash that included US Senators as well as gamers and non-gamers across the world. There was even an employee protest at Blizzard HQ over Blizzard's reaction to the events. In the end, Blizzard decided they would give the esports star his winnings and reduced everyone's suspension to 6 months. Shortly after the story was all but forgotten as Blizzcon made some major announcements that seemed to distract fans.
City of Heroes Revival
The honor of the top MMO news story of 2019 goes to the revival of beloved superhero MMORPG City of Heroes. It was a crazy year but no story lifted more hearts in the MMO world than the return of City of Heroes. Earlier this year it was revealed that there had been a secret server of City of Heroes and shortly after that the first new City of Heroes server open to the public opened up. Since then thousands of accounts have been made across a number of different servers. These servers have small groups of volunteer developers working on making improvements to the 15-year-old game and there are quite a few to pick from, though the most populated are part of the Homecoming group. City of Heroes makes the top of our list for being the story that has had the widest and most long-lasting impact. We can't wait to see what the new year holds for the revival of City of Heroes.
The post Top MMO News Stories of 2019 appeared first on MMOGames.com.